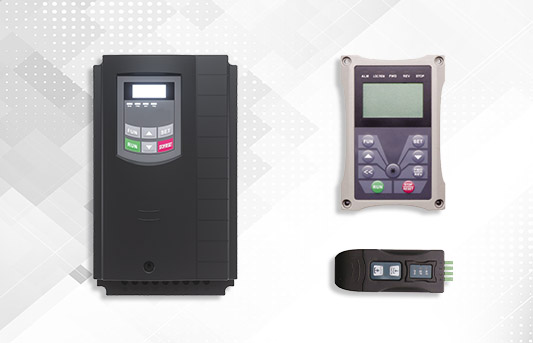 High-tech motor control concept.
---
You could try our E-Business platform without registration where you have an access to the all products, their prices, stock availability, delivery time and technical information.
Description
There are two series frequency inverters available in our product portfolio. ELM 2000+ frequency inverters High-tech motor control concept, based on advanced DSP-technology – ready for V/Hz, SENSORLESS VECTOR, CLV, and PMM motor control – intelligent AUTOTUNING functions for easy setup.
Flexible inverter control, dual high-resolution analog inputs, free mappable digital I/O channels Ready for all commonly used fieldbus systems Universal function-set for all kinds of industrial and residential applications, including integrated PID/pump controller routines Smart PC-tools, for inverter control, parametrization, and troubleshooting.
Browse all Frequency Inverters and full technical information here:
Parameter-duplication stick Brake chopper integrated аnd series ELM 1000 frequency inverters provide the so-called no-sensor control, V/f control, and impulse control while the output load can reach up to 150% within 60 seconds.
It features easy definition of curves and easy parameters setting of the inverter through the use of control panel buttons. The inverter can auto-calibrate according to the motor power, i.e. if the inverter is connected to a motor with power different from that set by the inverter manufacturer, it automatically adjusts its programmable parameters to suit the motor parameters.
You can find also additional devices: LCD remote frame size keypad for cabinet; cable for remote keypad and parameter copy stick.
What is an inverter and what does it do
An inverter is a key component for electricity management in industrial or domestic settings. It is widely used to convert DC electricity into AC electricity which is most often utilized in industrial settings, with energy coming from a source of energy, like a battery bank or some other sort of DC energy.
There is also an application that is commonly seen in solar panel systems which require that the electricity from the panels be fed into a battery bank for later use. Once the electricity is required, it is run from the battery, through the frequency inverter, and into the power grid of the property.
In this way, it is possible for AC-operated machines and electronics to operate with their nominal electrical energy, without worrying about de-synch occurring in their motors or moving components.
The goal of the converter is to change the direction and overall frequency of the electrical current which is passing through it. This happens through a carefully engineered process, which we've concealed out of sight, as to add an extra layer of safety.
Ease of installation
To increase the ease of installation, the products which you see in this catalog come with a kit, which allows for the installation of each frequency inverter to a panel or a wall. This means that the cost and time of installation are greatly reduced, allowing you to save resources.
As we mentioned above, these products are rated both for domestic and industrial use, with each model coming with its own kit to make it easier for a layperson to install on their own. It should be noted that all safety features will be void if the installation is incorrect, in which case we advise you to use the services of a professional electrician when dealing with frequency inverters or other electronics.